Artist Trading Cards
New Hand Stenciled ATCs (Artist Trading Cards)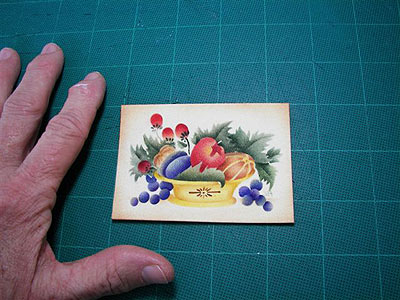 Artists Trading Cards are Traded never sold.


"Now stencil enthusiasts can join the movement."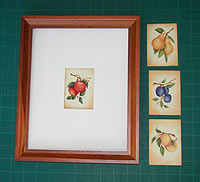 For the first time Jean Hansen now offers miniature stencil kits 2.5 x 3.5. These miniature kits are reductions of Jean's much sought after laser-cut ,multi layer Theorem kits; that for many years now, have come in the standard sizes 18" x 24", 11" x 17", 8" x 10", 5" x 7", and the 4" x 5" Mini Combos. The detail is incredible! "No one would hand cut these!"
History of the movement….
In 1997, Swiss Artist, M. Vanci Stirnemann, created 1200 cards by hand as part of an exhibit. On the last day, he invited others to create their own cards and trade with him during the closing reception. After that, the movement took off as other artists organized major "swap" events! Today, there are ATC swaps in almost every major city around the world. There are also many online swaps.
What are the rules for creating such works of art?
Really the only rule is that the surface be 2.5" x 3.5" and fit in the standard trading card sleeve. Any media is acceptable, any surface acceptable. As long as it fits in that sleeve.
Jean will be offering labels so each miniature work of art can be identified as a:
Jean Hansen Design
Hand stenciled by
The date it was created
Series Number
Stencil artist contact information
Address and or phone number
Email Address
What if you want to sell your miniature stenciled artwork?
This will be acceptable, but these works will classified as Stenciled Art Card Editions.
Jean's will be called Stenciled Art Card Originals because she is the creator of these designs. Jean does not usually sell her work, she leaves that to those who buy her stencils and with her blessing. Occasionally, if she does sell and her work, it will be labeled Stenciled Art Card Originals.


Jean Hansen Publications
offers a total line of supplies for the ATC artist including all the Strathmore artist papers, her own product "Touch of Velour" Velour Board, the standard archival sleeves, envelopes, greeting cards, mats, frames as well as storage products for the stencils all geared for this 2 5" x 3.5" format. Jean Hansen Publications already carries at total line of Shiva Paintstiks, the professional quality dry form of artists oils that is perfect for this technique. She also stocks the appropriate size brushes for these miniatures as well.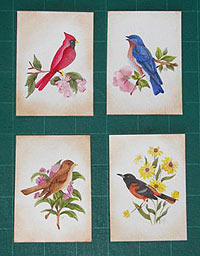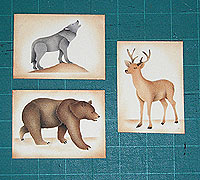 As there are nearly 200 Jean Hansen Theorem designs in the collection all the designs will not be available immediately. We have chosen our most popular designs and are starting there. If you have a special request for one of Jean's designs in this special reduced format please let us know and we will move that up on our list. Most of our customers are decorative painters, stencil artists or stampers that sell their work, use their work for fundraisers, gifts, greeting cards or in their own décor. My feeling is they are going to use this artwork, not store it away.
Products
A Beginner Pre-Cut Theorem Kit by Jean Hansen

$8.95 - $24.95

A Pre-Cut Theorem Kit by Jean Hansen

$8.95 - $35.00

A Beginner Pre-Cut Theorem Kit by Jean Hansen

$8.95 - $35.00

A Beginner Pre-Cut Theorem Kit by Jean Hansen

$8.95 - $18.95

A  Beginner Pre-Cut Theorem Kit by Jean Hansen

$8.95 - $24.94

A Beginner Pre-Cut Theorem Kit by Jean Hansen

$8.95 - $24.95