Ceramic Tiles
Care of Hand Stenciled Bisque Tiles
These Hand Stenciled Bisque Tile has been created with the use of multi-layered, bridgeless stencils, through which a wax based oil paint has been rubbed. It has been finished with an acrylic based finish to simulate a piece of fired ceramics. Its primary use is decorative. Caution should be taken, if used as a trivet, because the surface finish cannot withstand temperatures in excess of 150 degrees Fahrenheit. Hand washing is recommended.
Products
Bisque Tiles
Cork Sheets
Cork Sheets 6" x 6" for tiles when not used with the wooden frame.
Finished Hinged Box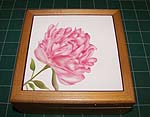 Finished Tile Tray
Finished Wooden Trivet with 6" Bisque Tile
Wooden Tile Frame (square)