Gift Ideas
Jean Hansen Publications
Theorems Make Timely Gifts
by Diane Greco for Jean Hansen Publications
Create distinctive gifts on a variety of surfaces by using Jean Hansenís highly detailed theorem stencils. This gift guide is ideal for all levels of expertise, from novice students to teachers in search of a new class project. Learn how to execute unique gifts for every type occasion using stencil designers and theorem paintings.
Greeting Cards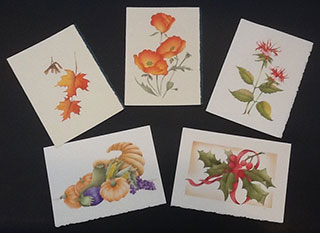 These heavyweight Strathmore Greeting Cards with matching envelopes are gifts in themselves. Our 5x7 stencils of these smaller designs make them a perfect fit for standard mats and frames. Our Mini Combo Stencils which consist of 4-4x5 Stencils are perfect for the Strathmore Announcement Size cards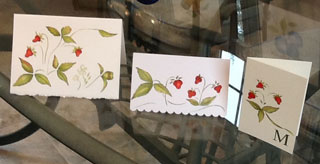 Maureen Parmelee's Wild Strawberries Stencil #21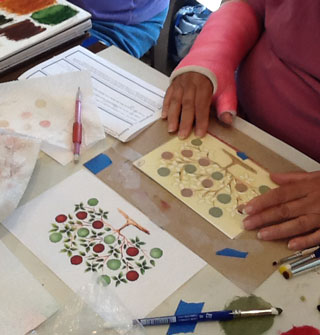 Darlene Craig stenciling a Shaker Tree #16 note card with her right hand in a cast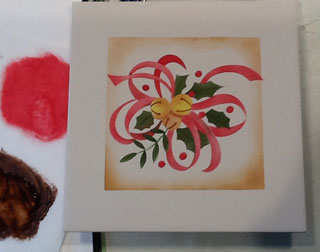 Carol Ann Totte's "Jingle Bell" (#25) Bisque Tile
Gift Bags- Wine Sacks, Sachets Tote Bags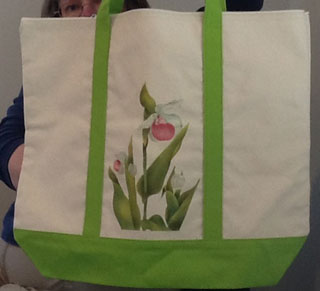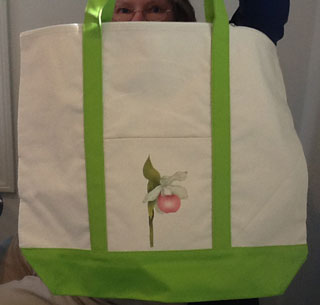 Put a unique twist on a bottle of wine by placing it in a muslin wine sack. Jean Hansenís designer stencils are perfect for dressing up this common gift. They also make wonderful gift bags for homemade goodies from your own kitchen, such as flavored vinegars, canned preserves, brandied fruits, or Christmas cookies. Totes are now available in many colors and are perfect for stenciling. This is Ruth Collin's Lady Slipper Tote.
†
Fabulous on Fabric- Muslin, Linen, Veveteen, Silk
Don't hesitate to use textured, colored or patterned fabrics for your background. Texture can enhance your finished theorem by giving it a one-of-kind design. As you develop your decorative art skills, you will enjoy experimenting with various types of fabric. Look how beautiful on the silk.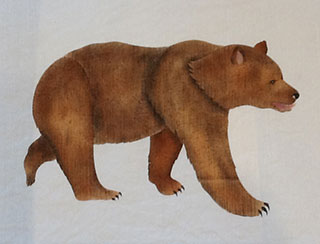 † Heavy Textured Linen

† Susan Porter's Wild Bear
†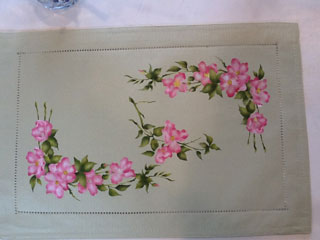 † Placemats- Fabric Blend

† Janet Sawyer's Wild Rose Stencil #170
†
Jane Crowell's Muslin-Magnificent Quilt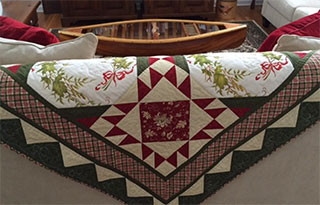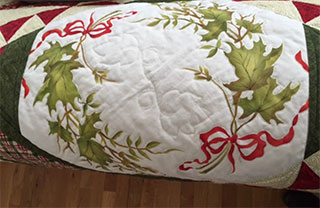 Jean Hansen's Silk Scarves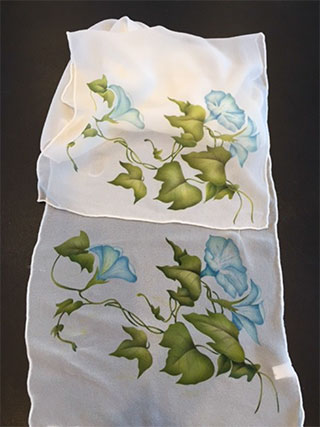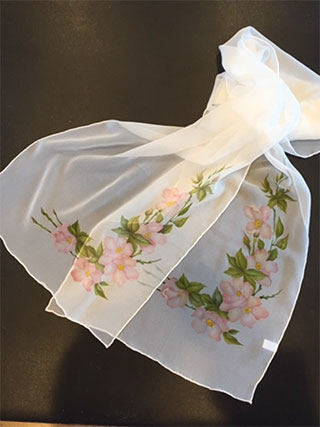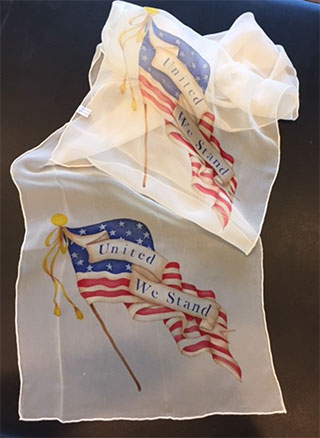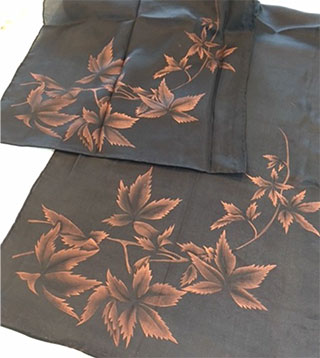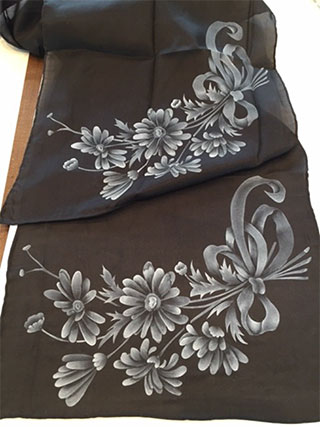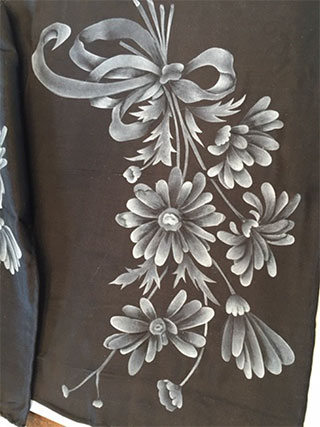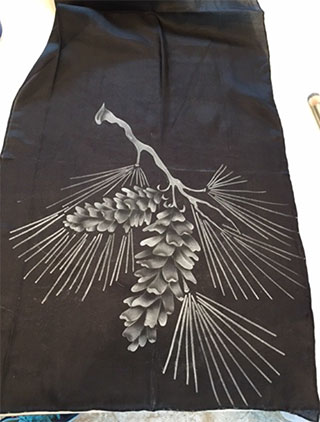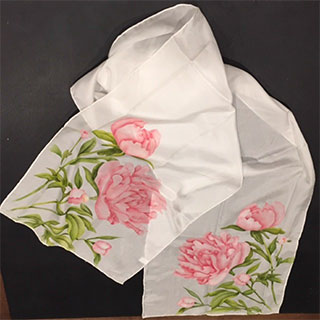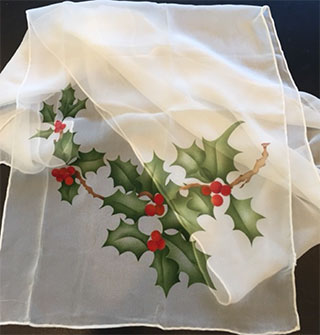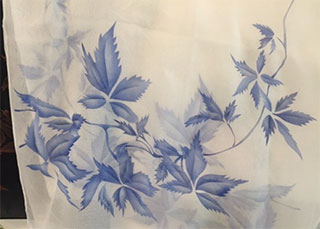 Wonderful on Wood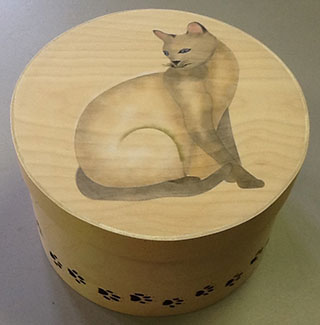 Bentwood Boxes

Marion Simmons Cat Box (on Site) Siamese Stencil #60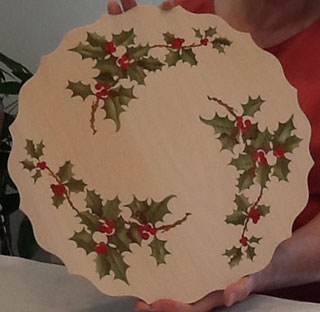 † Basswood Plates and Bowls
† Ruth Collins Holly Plate #251
†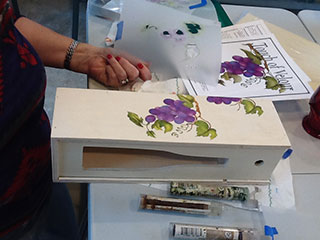 † Painted Wood
† Kris's Grape Wine Box Stencil #122
†
Clothing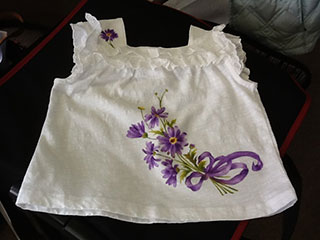 Helen Allison's Toddler's Dress Daisy Spray with the Bow Stencil #136
†